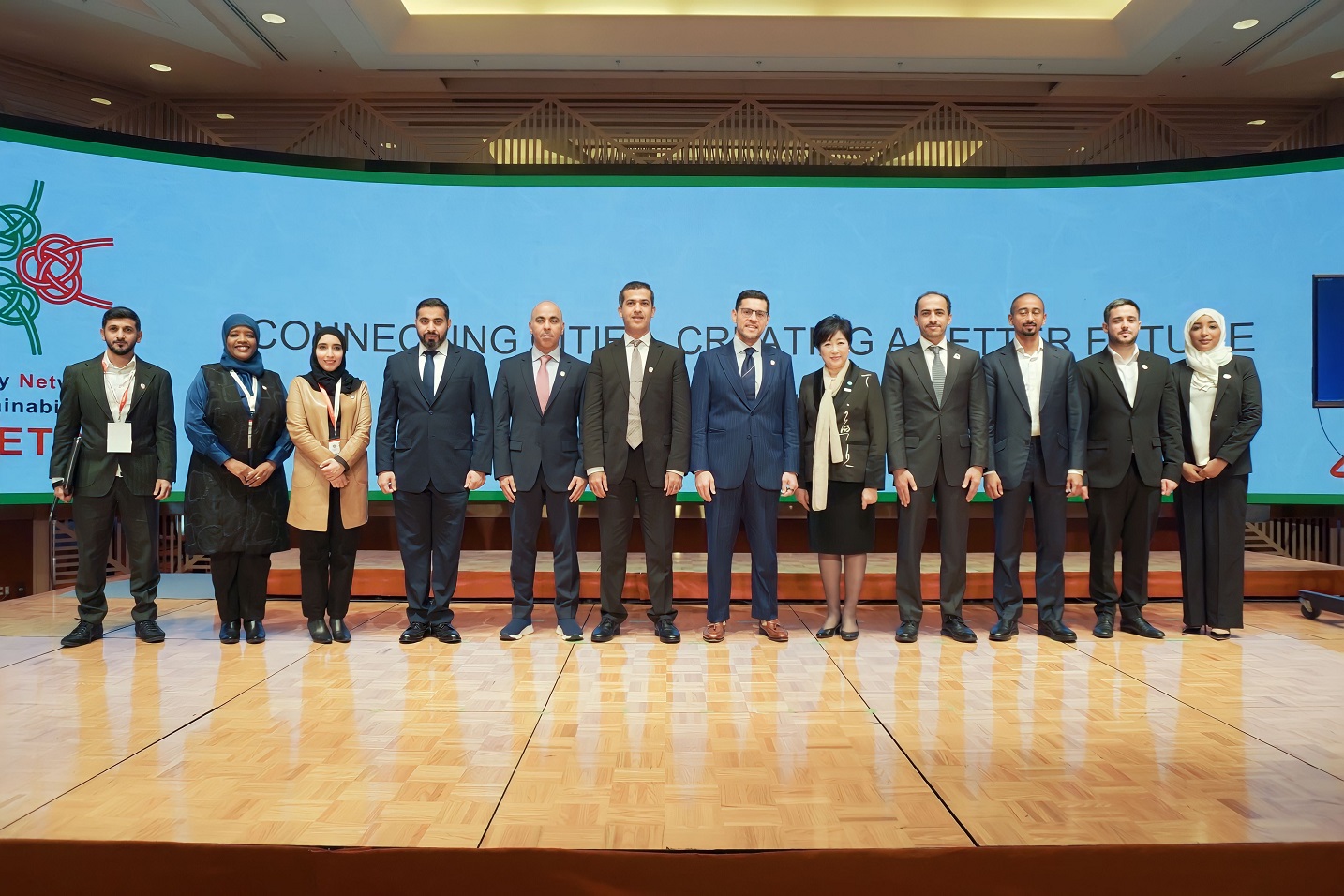 Abu Dhabi, 2 March, 2023: His Excellency Mohamed Ali Al Shorafa, member of Abu Dhabi Executive Council and Chairman of the Department of Municipalities and Transport (DMT) led a delegation to Tokyo, Japan, to attend the Global City Network for Sustainability (G-NETS) summit held from February 27 to March 1, 2023.
The summit was attended by leaders, mayors, and officials from over 33 cities worldwide, all convening under the theme "Connecting Cities Creating a better Future".
G-NETS provided a platform for cities to meet and discuss how to tackle common challenges facing cities globally. Its main objective was to strengthen intercity cooperation by facilitating proactive communication between cities to resolve challenges.
The Abu Dhabi delegation was composed of His Excellency Engineer Hamad Al Dhaheri, Undersecretary of the Department of Community Development, His Excellency Hamad Al Mutawa, Executive Director of Planning and Infrastructure Sector at DMT, and representatives of the DMT, the Environment Agency - Abu Dhabi, and the Department of Community Development.
H.E Mohamed Ali Al Shorafa, said: "Abu Dhabi Government is committed to preserving the environment and protecting wildlife. The government's efforts align with the wise leadership's belief in the importance of maintaining natural resources and achieving sustainable development. H.E Al Shorafa emphasized the government's commitment to balance economic growth with environmental conservation and protection.
"Strengthening cooperation with major cities around the world to build sustainable societies is a top priority for the emirate of Abu Dhabi. To achieve this goal, the government has implemented a range of policies and initiatives aimed at conserving the environment, thereby enhancing Abu Dhabi's position as a preferred destination for living, working, and visiting.", Al Shorafa added.
Her Excellency Dr. Shaikha Salem Al Dhaheri, Secretary General of the Environment Agency - Abu Dhabi (EAD) noted: "Through our participation within Abu Dhabi Emirate delegation to G-Net Summit Tokyo, EAD will highlight its efforts to reduce pollutants and maintain air quality in Abu Dhabi through unifying and expanding monitoring efforts and encouraging scientific and academic research to ensure a sustainable healthy society."
Her Excellency indicated that the projects implemented by EAD in the field of air quality preservation have contributed to strengthening the emirate's capabilities in mathematical modeling of atmospheric emissions and air quality and establishing a framework that is compatible with the current and future goals and needs of the emirate of Abu Dhabi.
She also added that the Agency is keen to use advanced technology to monitor and determine sources of unpleasant odors and pollutants. This is in addition to communicating with partners to implement mitigation plans in a sustainable manner that provides a better quality of life for the residents of the Emirate of Abu Dhabi.
His Excellency Engineer Hamad Al Dhaheri, Undersecretary of the Department of Community Development, praised the delegation's participation in the G-NET summit, which convened leaders and experts from worldwide cities to exchange ideas and experiences on security, environment, and inclusive communities. He emphasized the Emirate of Abu Dhabi's proven track record of improving people's quality of life through initiatives and strategies that serve all segments of society. Al Dhaheri highlighted the social sector's commitment to ensuring inclusion by providing a social safety net and developing services for people of determination, the elderly, and vulnerable groups to effectively contribute to society.
Al Dhaheri explained that sustainable development hinges on community development, which requires meeting the needs of community members to enhance their sense of belonging. He cited the Department of Community Development's quality-of-life questionnaire that demonstrated over 98% of citizens and 93% of residents expressed pride in being part of the Abu Dhabi community.
During the summit, the Emirati delegation held coordination meetings with high-ranking officials, mayors, and representatives from Tokyo, Helsinki, Brussels, and Singapore. Additionally, they participated in a significant session on February 28th, where they presented several initiatives and projects implemented by Abu Dhabi government entities to safeguard the local environment in the emirate.