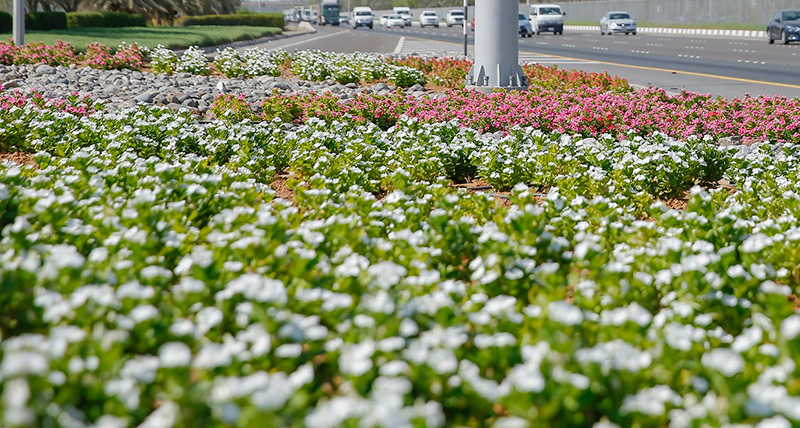 Through Musaffah Municipal Center, Abu Dhabi City Municipality (ADM) has completed development works for the median strip at the entrance of Musaffah area as well as some triangles on the public street bridges, and planted flowers in Musaffah Industrial Area, to maintain the civilized and aesthetic appearance of roads of Musaffah Industrial Area.
The development and innovation of the public street at the entrance of Mussafah included fixing tiles and planting flowers and flowering shrubs at the beginning of the central island of Mussafah entrance and some triangles at the bridges of the public street. As many as 10 thousand seasonal flowers were planted, and an area of 1,976 square meters was covered with concrete tiles, in addition to planting 1,692 flowering shrubs.
The development works of the central island of the public street – for those coming from Abu Dhabi to Mussafah Industrial City- include fixing the concrete tiles for an area of 1,456 square meters and cultivating 1,496 trees in the pots of flowering plants.
The development of triangles at the entrances and exits of bridges at the public street includes developing for triangles in the public road in Mussafah Industrial City by fixing 520 square meters of concrete tiles and planting 640 seasonal flowers and 196 trees in the pots of flowering plants. In the meantime, the development and renovation of Mussafah Industrial City entrance at the street (8) contain the cultivation of 9,650 seasonal flowers to improve the aesthetic landscape of the area.