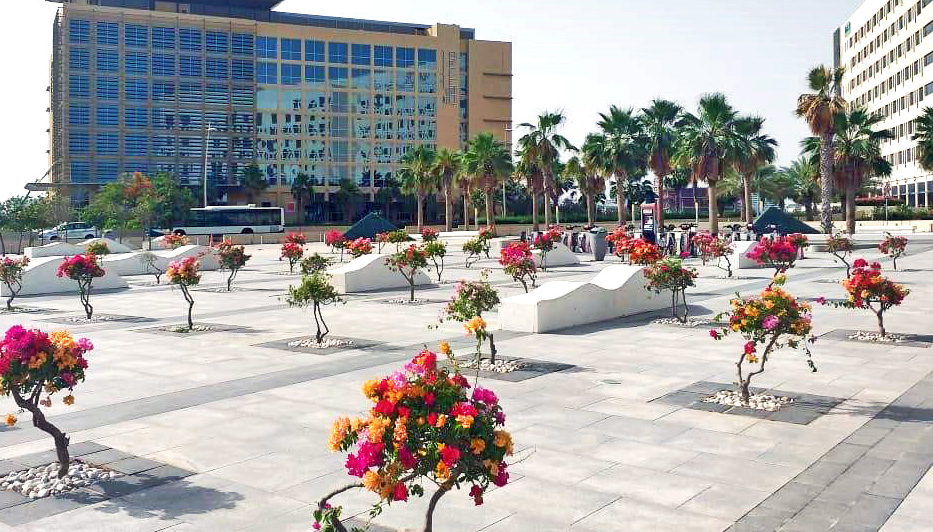 Abu Dhabi City Municipality represented in Shahama Municipality Center – through the department of technical services – administration of operation and maintenance contracts – in cooperation with strategic partners of the private sector, has carried out serval creative initiatives to improve the municipality assets and the public appearance that were admired by the residents.
Such initiatives include implementing (Stereoscopic model of the Country's flag) with night light near to Montazah Al Shariah Roundabout and atheistic and the development works in Plaza Hotels area in Yas Island along with recycling weak trees with beautiful trees that include bright colors, and recycling frames such as plant basins in the area of Abu Dhabi International Airport. It also includes the development of Al Mosatah Al Akhdar area near the Montazah Al Shariah roundabout and making a Stereoscopic model raise awareness against the "Coronavirus" titled "Stay at Home."
For his part, Mr. Hamid Rashid Al Darie, director of Shahama Municipality Center, said that such creative works reflect our wise leadership's keenness and ADM's pursuit to improve the aesthetic landscape in public facilities, which in turn contributes to the happiness of society and create a harmonious aesthetic scene that emphasizes the cultural and aesthetic feature of all cities and facilities.
He extended thanks on behalf of ADM for all strategic partners from the private sector who have contributed to support this creative and civilized project.
He pointed out that one of the essential criteria adopted by the municipality in line with the wise leadership directives is to enhance cooperation and partnership with the private sector to delight the community and provide advanced facilities with a collective nature that enhances the status of Abu Dhabi and its suburbs.