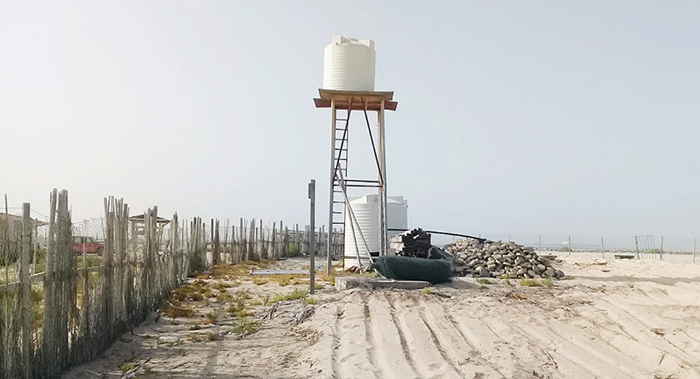 Abu Dhabi City Municipality through the City Center Municipality – Division of Island Inspection in cooperation with the Infrastructure and Municipal Assets Sector – has carried out a campaign to remove dilapidated houses, caravans, and fences that deformed the public appearance in Ras Ghurab Island. The Campaign is part of campaigns carried out by the Municipality to improve the general appearance, protect the environment of all distortions, and highlight the unique aesthetic landscape of the island.
Before the Campaign, ADM stated that it had posted notices of removal on February 16, 2020, for two weeks. Then, ADM started demolition of buildings. It demolished 21 dilapidated houses and caravans and six fences deforming the public appearance.
In this respect, ADM has called the owners of buildings, rest houses, caravans and all forms of dilapidated and abandoned homes in various areas of Abu Dhabi and its suburbs to cooperate with the Municipality and obtain the necessary licenses for removal and demolition as soon as possible or maintain and renovate them to protect the civilizational appearance of the city to preserve the health and safety of society members out of ADM's keenness on removing the distortions of public appearance.
It should be noted that ADM periodically inspects abandoned buildings that are an eyesore. It also prepares inspection reports to evaluate the state of the buildings. It submits them to the inspection committee for necessary action if owners of these buildings do not respond after the expiration of the notice period. The committee for inspecting eyesore abandoned buildings studies the reports submitted. It prepares recommendations regarding the premises, as per its competence.
Concerning the dangers such buildings pose to the community, ADM emphasized that such buildings do not reflect the aesthetic and civilized appearance of cities and islands and do not meet security, safety and public health requirements. They also pose a threat to people's lives and the safety of society members or occupants of the building. Moreover, they negatively affect the social aspect of the area and other residential buildings nearby.
As for the procedures taken by ADM against the owners of such abandoned buildings according to the law, ADM stated that owners of the occupied buildings that are an eyesore but can undergo maintenance and rehabilitation would be notified to carry out maintenance works immediately. If the needed maintenance works are not carried out within the given period, ADM will issue a statement of violation as per the relevant laws and regulations and refer it to Abu Dhabi Municipality Prosecution for necessary legal action.
ADM added that occupied and dilapidated buildings that represent an imminent danger will be treated as abandoned buildings and shall be referred to a committee to make the necessary decisions in their regard as per the applicable procedures, and to evacuate them if necessary.