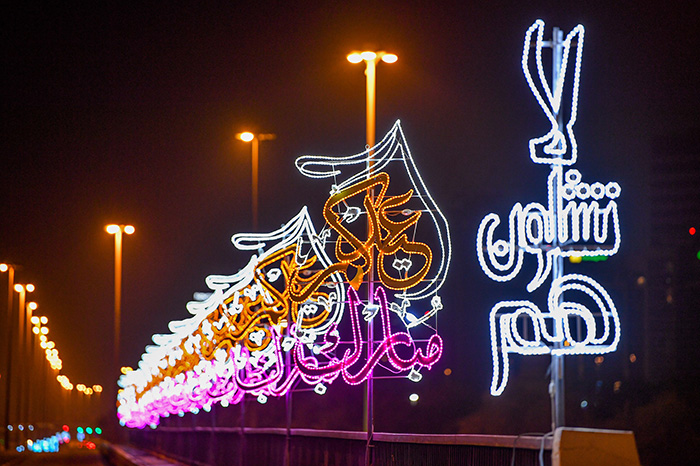 Abu Dhabi City Municipality beautifies the main and subsidiary streets, bridges and roundabouts of Abu Dhabi Island with hundreds of lighted paintings to celebrate Eid Al-Fitr, to spread joy between society's members, and expressing happiness to receive this special occasion to everyone.
The municipality teams work on installing Eid Al Fitr decorations as an additional decoration for Ramadan designs, to embody the spirit of Eid Al Fitr to the members of society , as the paintings are distinguished by a mixture of geometric combinations chosen between stars and crescents and the words of congratulations on Eid Al Fitr.
And 600 illuminated decorations for Eid al-Fitr are added to the Ramadan decorations, where the paintings of the bridges and roundabouts of Ramadan have been changed to the Eid Al-Fitr decorations, as well as the installation of Eid decorations on the front lighting poles at each intersection in the main and branch roads.
The Eid decorations paintings include many of the greeting phrases and words that are well-known in the Emirati society, such as: "Blessed Your Eid," "Eid Mubarak," and more words that wish you a happy Eid. Where many colors were combined in one painting to give it a special spirit that distinguishes it from other occasions, in addition to inlaid all shapes and formations with acrylic..
The municipality was keen that the lighted structures and shapes that are installed within the decorations of Eid Al-Fitr should be of appropriate sizes and safe for road users, including cars and pedestrians, and that all of them be made of environmentally friendly materials, and of high quality in terms of insulation and resistance to all weather factors.