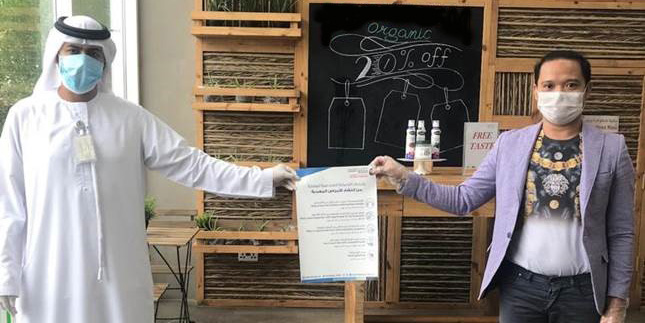 Abu Dhabi City Municipality affiliated to the Department of Municipalities and Transport, by the City Center Municipality, implemented a campaign to visit 95 stores in Al-Mushrif and Al-Zafarana areas in Abu Dhabi to educate their owners and workers about personal protection measures to prevent the spread of the Coronavirus, in keeping with government measures and efforts to prevent the virus and reduce its spread, within the framework of the precautionary measures aimed to achieve the highest levels of health and safety and providing a safe and healthy environment for all members of society.
During the visits to the stores, the municipality team made the owners, their employees and the visitors aware of the necessity of avoiding crowds, committing to leaving at least two meters between people, and avoiding touching the face except after washing hands with soap and water for 20 to 30 seconds, in addition to wearing masks.

The team also distributed 120 educational posters in five languages: (Arabic, English, Chinese, Hindi, and Filipino), which includes medical phrases and guidelines for preventing infectious diseases, in addition to ensuring the extent of the shops commitment to circulars and instructions published by the appropriate government entities, related to precautionary measures to prevent and reduce the spread of coronavirus.