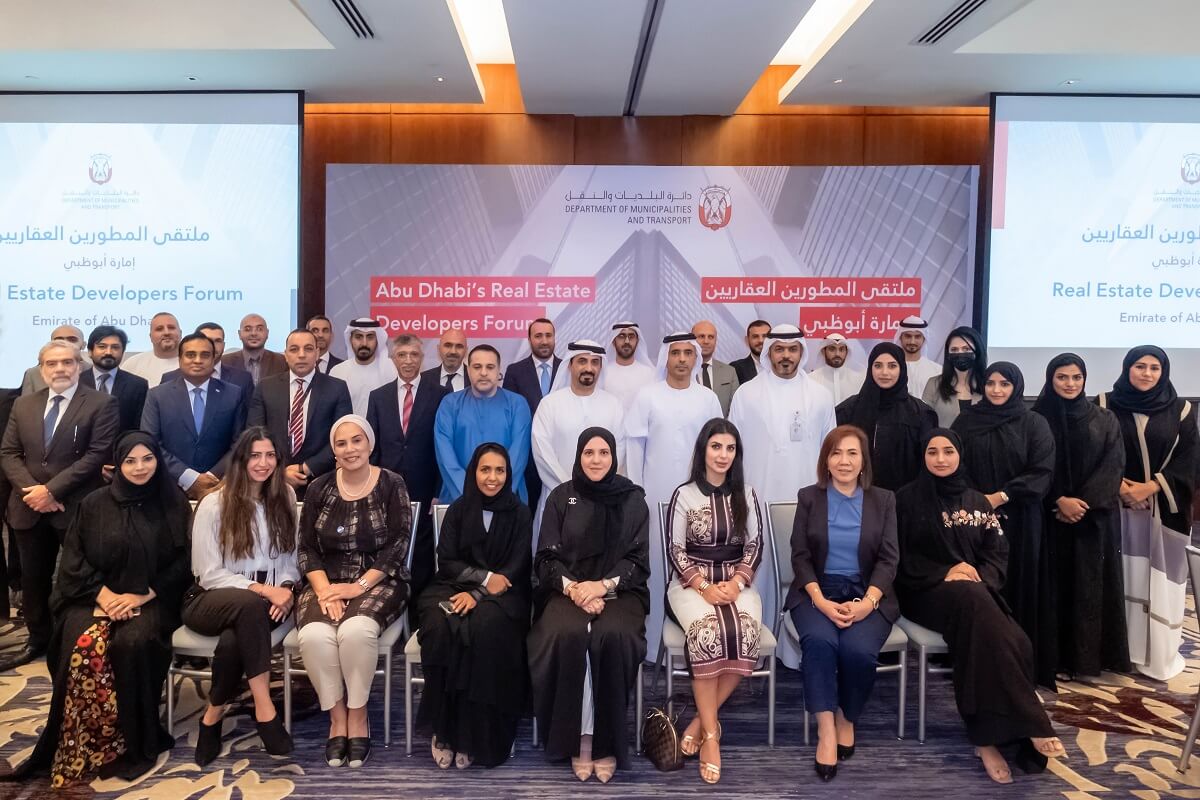 The Department of Municipalities and Transport in Abu Dhabi organised the Real Estate forum for developers and real estate companies operating in the Emirate of Abu Dhabi.
The forum highlighted the digital services provided by the department to speed up processes for dealers and real estate developers to offer a comprehensive, integrated, and advanced real estate service to the emirate and help it grow sustainably. It also reviewed the most prominent and latest developments and projects in the real estate sector in the emirate.
The forum acts as a platform for the public, and private sector stakeholders in the real estate sector to communicate and review the advantages and future opportunities to enhance the attractiveness of the Abu Dhabi real estate market and consolidate the emirate's position as one of the best global destinations to live, work and visit.
His Excellency Dr. Adeeb Al-Afifi, Executive Director of the Real Estate Sector at the Department of Municipalities and Transport, opened the forum today in the presence of representatives from the Abu Dhabi Residents Office and senior management from several real estate development companies that work in the Emirate of Abu Dhabi.
H.E. Dr. Adeeb Al-Afifi said: "Through practical and innovative services, regulations, and regulatory policies, DMT aims to establish a unique ecosystem and integrated infrastructure that will attract investors to Abu Dhabi and boost the real estate sector. We are eager to leverage our abilities and strengthen strong ties with investors and real estate development firms through the forum to foster the growth of this crucial sector and realise the vision of our wise leadership in improving the quality of life in the emirate.
The event highlighted the stability and diversity of the investment opportunities as the prominent pillars that make the Emirate of Abu Dhabi an attractive location for real estate investment.
During the forum, the Abu Dhabi Residents Office discussed the terms and facilities accessible to anyone looking to settle and invest and the benefits of golden residence for investors in Abu Dhabi. The department showcased the digital services, which aims to increase the attractiveness of real estate investments.
Dr. Adeeb added: "The real estate market of Abu Dhabi has been recognised as one of the top global improvers in 2022 in the latest Global Real Estate Transparency Index (GRETI) by JLL International. The real estate market in Abu Dhabi has grown thanks to accurate data on the market, innovative digital services, and real estate investment options in the emirate steadily, giving the emirate an extra competitive edge as one of the world's most important markets and most attractive places to invest in real estate."
In addition to improving communication and exchanging ideas for sustainable development and improvement of the sector in light of global economic changes, the forum covered the real estate registration systems in the emirate, which included laws, procedures, and fees that deal with developer affairs.