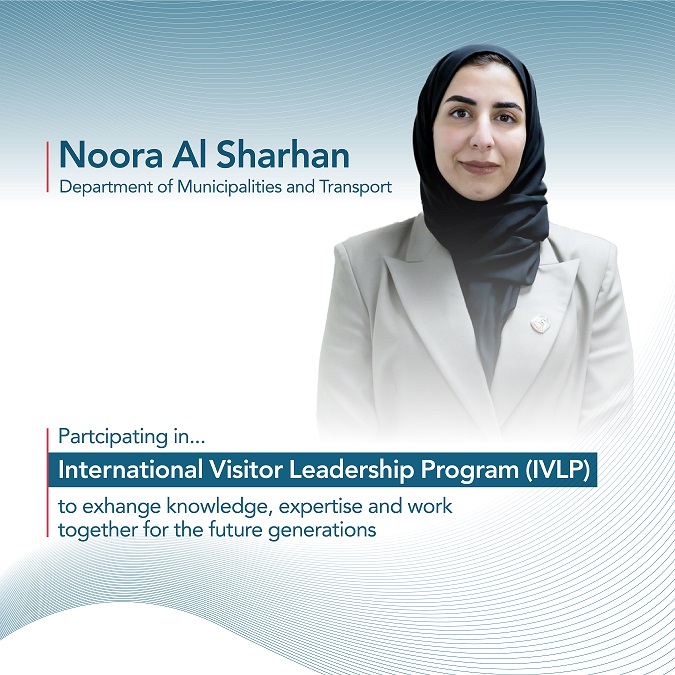 Abu Dhabi, 6 April 2023: Ms. Noora Al Sharhan, an EHS -Aviation sector compliance specialist at the Department of Municipalities and Transport (DMT), has recently participated in the International Visitor Leadership Programme (IVLP), which was held in Washington, DC from February 25 – March 15, 2023.
The DMT has extended its full support to Ms. Noora's participation in the IVLP as part of its commitment to empowering its young employees by providing them with opportunities to engage in international events. Through such prestigious programmes, they can share knowledge, expertise and best practices, contributing to Abu Dhabi's endeavors towards sustainability and the creation of sustainable and smart cities while improving the quality of life in the emirate.
Additionally, Noora Al Sharhan is a member of the UAE Youth Councils representing the civil aviation sector for the years 2022-2024.
The IVLP is managed by the Meridian Center for Global Leadership and supervised by the United States Department of State's Bureau of Educational and Cultural Affairs. It's a global initiative that brings together participants from around the world to explore U.S. government programs, non-government strategies, and private-sector investments, programs, and initiatives to reduce greenhouse gas emissions, halt and reverse deforestation, pivot to clean energy and support human and natural populations vulnerable to extreme weather disruptions and longer-term physical changes. Participants also discussed priority areas for international cooperation and practical actions to raise awareness of climate change challenges and promote public engagement in environmental conservation.
The international program aims to create a community of experts on climate change and promote opportunities for partnership and collaboration, provide a platform to share approaches to drive local/national policy or innovate solutions to the climate crisis, and showcase the broad array of U.S. public and private sector work on mitigating climate change. Through meetings, site visits, and other activities participants will observe innovations in energy and transportation systems, discuss strategies for better land and ocean stewardship, explore models for risk management and disaster-resilient infrastructure, and assess the role of government actions and the private sector to encourage sustainable livelihoods.
Ms Noora Al Sharhan expressed her pride in being selected for the IVLP. She described the programme as an excellent opportunity to meet and network with high-profile officials and experts in sustainability and climate change neutrality. She also noted that the programme provided an exceptional platform for sharing knowledge and expertise with international counterparts, and that the insights gained would contribute to efforts to drive sustainability and create smart and sustainable cities.