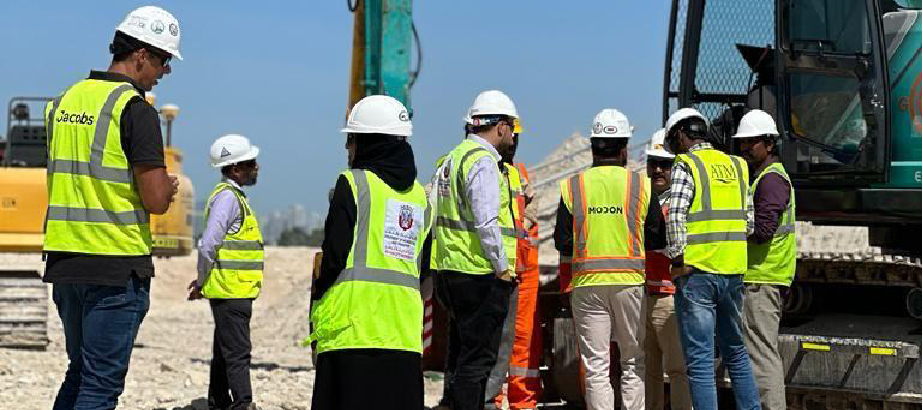 With the objective of elevating the practices of building demolition and informing firms involved in demolition projects about the environmental, health, and safety requirements during demolitions, Abu Dhabi City Municipality, under the City Planning Sector - Environment, Health and Safety Department, initiated a field campaign at construction locations on Abu Dhabi Island. The campaign aims to educate officials and workers of building demolition companies on the significance of adhering to safety requirements, providing a secure work environment that ensures everyone's safety during demolition operations.
The campaign, which continued for five consecutive days, stems from the municipality's determination to implement the best practices in demolition. This is in keeping with its ongoing endeavors to safeguard community members and the health and safety of workers in this field from potential demolition hazards. Moreover, the campaign aims to maintain the safety of the environment and buildings nearby the operational areas.
Abu Dhabi City Municipality is urging consultants and contractors operating in the field of building demolition to comply with environmental, health, and safety standards during all types of building demolitions. This is achieved by adhering to thought-out and systematic procedures that minimize the impacts of demolitions on community members and the environment.
Throughout the campaign, the municipality's inspectors highlighted the crucial need for demolition companies to comply with health, safety, and environmental requirements, to be always prepared to handle any emergency, and to devise a plan for immediate response to accidents. This is to prevent and lessen the adverse effects of demolitions on the environment, workers' health and safety, while preserving public and private property.
The municipality's inspectors ensured that the companies working at the sites meet all necessary requirements, which include: obtaining a demolition permit from the relevant authorities, securing the site properly to prevent materials from falling onto neighboring buildings and pedestrians, providing firefighting equipment and training site workers to use it. They also stressed on providing necessary training for technicians and equipment operators, measuring noise and dust levels and applying appropriate prevention methods, managing waste at demolition sites, disposing of it correctly, and spraying pesticides to prevent the spread of insects and maintain site cleanliness.
Moreover, Abu Dhabi City Municipality expressed its confidence in the demolition companies and contractors' commitment to the standards and requirements applicable in demolition processes. The municipality emphasizes that the work must primarily be supervised by company officials, in accordance with Law No. 16 of 2009 about certain amendments to Law No. 4 of 1983 on the regulation of construction works, and Law No. 2 of 2012 on the preservation of public appearance, health, and public tranquility.