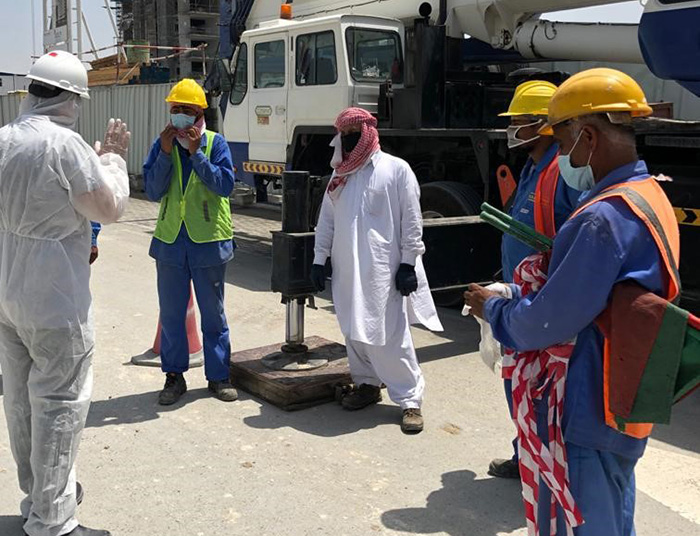 Abu Dhabi City Municipality, affiliated to the Department of Municipalities and Transport through the Department of Environment, Health, and Safety, has implemented field visits to some of the worksites in all regions of Abu Dhabi, on the occasion of International Labor Day, to celebrate the achievements of workers and embody the importance of their role and meaningful participation in the development process, and raising awareness level in the domain of health and safety, also provide an ideal work environment in the Emirate of Abu Dhabi based on the guidance of great leadership, which always highlights the necessity to take care of workers who contribute actively to build modern cities.
The visits witnessed many awareness-raising procedures and discussions with workers and construction company administrators, to maintain the work environments safe that take into account the safety of workers and support their efforts in producing projects, as well as preserving the workers accommodations healthy to keep them safe.
The self-inspection initiative has also been activated by constructors and consultants, which aims to raise awareness among site directors to provide the best healthy and safe work environment for workers during construction work in Abu Dhabi City.
These visits come to celebrate the workers in the enlightenment of entrenchment of the human right to work as one of the fixed rights closely related to the justice to life and development and one of its most important tributaries, which is what the Abu Dhabi City Municipality seeks to achieve on reality by the implementation of a set of special initiatives that contribute to improving the conditions of workers and save their rights, moreover, aware of their important role in the urban development process, which is moving steadily towards a brighter future for the country and society.